Home > Products > Cooling tank > Conical brew cooling tank
Cooling tanks are widely used for low temperature fermentation, low temperature storage, long-term aging, carbonation and other processes of beer, sake, wine and shochu (distilled spirit)
Conical brew cooling tank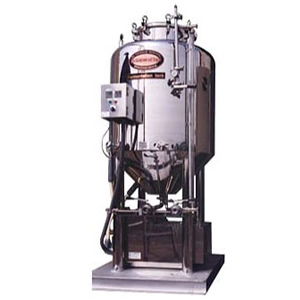 Nippon Kyohan offers a conical brew cooling tank made of all stainless steel on both inside and outside.
1.Temperature control system preventing freezing
Brine and tank temperatures are separately controlled to avoid overcooling and prevent freezing.
2.Temperature is vital for fermentation. The conical cooling tank controls the optimum temperature.
The tank controls the temperature to within ±1°C and gives readings to first decimal place based on data from the resistance temperature detector and temperature indicator controller, making it easy to quickly set the desired temperature.
3.The temperature of each tank is controlled separately.
The tank incorporates a refrigerator into a single unit. Even when several tanks are used, the temperature of each tank is separately selected, making it ideal for high-mix/low-volume production.
4.Equipped with a compact refrigerator using new refrigerant gas
Incorporates a compact refrigerator featuring low power consumption. Controls are based on fuzzy log, and the refrigerator runs only when needed to minimize operating costs.
5.All stainless steel triplex structure
The tank consists of three layers: an inner surface, a cooling jacket, and an outer insulator. The clean welded structure is made entirely of stainless steel for applications where hygiene is critical. Both the inner and outer surfaces can be washed with water.
Technical data
Material
Body: SUS304 / Cooling jacket: SUS304 / Outer insulator: SUS304
Insulator
Perlite C
Working pressure
0.147 Mpa
Refrigerator
Daiichi Industrial's brine chiller * Cooling the drum and the bottom conical part