Home > OVERSEAS DIVISION > Vietnam-based affiliate: RK Engineering Co., Ltd.: Quality control
We strive to improve quality, safety, efficiency, and communications.
Quality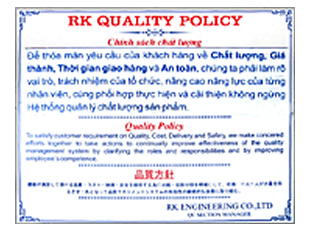 Quality policy
To meet customer requirements for quality, cost, delivery, and safety, we make a concerted effort to clarify organizational roles and responsibilities and improve employee competence, thereby continually improving the effectiveness of the quality management system.
An ASME-certified company
RK Engineering received ASME certification on December 4, 2012. ASME certification addresses technical standards for manufacturing power boilers and pressure vessels. We are the first Japanese company based in Vietnam to have obtained ASME certification for manufacturing power boilers and pressure vessels, another sign of our commitment to excellence in manufacturing power, chemical, and food plant equipment in Southeast Asia, including Vietnam and China.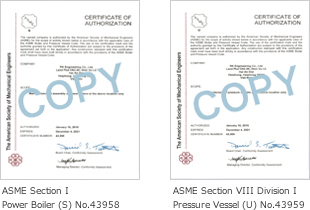 ASME stands for the American Society of Mechanical Engineers. Of the various standards established by ASME, the Boiler and Pressure Vessel Code sets forth safety regulations for the design and inspection of pressure vessels and nuclear power plant equipment.
ASME assessment
The first meeting for ASME (May 22, 2012)
The second meeting for ASME (July 10, 2012)
The third meeting for ASME (August 16, 2012)
Demo fabrication for ASME (September 26, 2012)
Final assessment for ASME (November 15 & 16, 2012) (Document)
Final assessment for ASME (November 16, 2012) (Witnessed)
Efficiency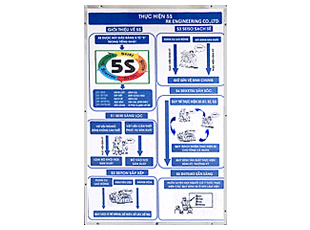 1S + 5S production improvement activities
| | |
| --- | --- |
|   | Safety |
| S1  | Seiri (Sorting/Tidiness) |
| S2  | Seiton (Setting in order/Orderliness) |
| S3  | Seiso (Shining/Cleanliness) |
| S4  | Seiketsu (Sanitary) |
| S5  | Shitsuke (Sustaining/Discipline) |
Communication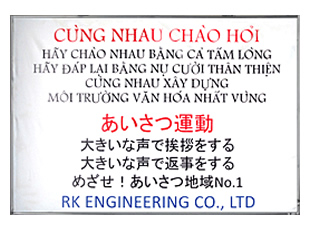 Greeting campaign
Through the greeting campaign, we strive to improve communications among employees.