Home > OVERSEAS DIVISION
By utilizing our technologies related with head plate production, we also started to manufacture various products including pressure vessel tanks and products for the food and pharmaceutical industries.
We are producing these products in Vietnam plant established in 2012 and it has integrated system of one-stop production.
We are providing our products to all over the world as well as Japan.
Vietnam-based affiliate: RK Engineering Co., Ltd.
RK Engineering was established in Dinh Vu Industrial Zone in Haiphong for three reasons.
1.Regional characteristics
Vietnam lies between fast-growing Southeast Asian countries and China. Haiphong city, located 100 km to the east of Hanoi, is the center of logistics and boasts an international trading port.
2.Location and transport
Dinh Vu Industrial Zone is situated close to Dinh Vu Port, Haiphong's international trade port. The location is ideal for receiving delivered materials and for shipping out large products by sea transport. Vietnam is currently planning to develop Lach Huyen Port to meet growing demand for container transport. Beyond sea transport, a highway is currently under construction to relieve traffic congestion on Route 5 leading to Hanoi. Cat Bi Airport, which connects Haiphong to the south central area, is 10 km away.
3.Technical capabilities
Haiphong is a historic port city with a flourishing shipbuilding industry. The city is home to many factories that cut, bend, and weld iron and features a concentration of highly skilled workers and numerous potential manufacturing partners.

Start of one-stop production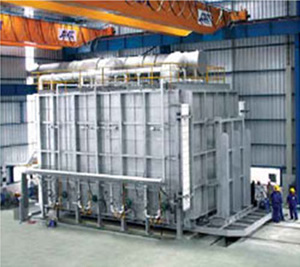 Having the largest capacity in size and temperature in Vietnam
Convection type car bottom heat treatment furnace
Completed in March 2014, this convection type car bottom heat treatment furnace makes possible the one-stop and in-house production of structures that require heat treatment and must meet ASME or other standards. It features heat treatment technologies that improve the functionality of mechanical parts and structures by enhancing the finished quality of metal materials with increased strength, elongation, and tenacity.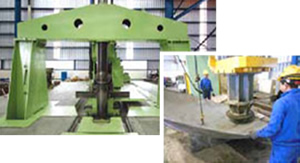 Head plate forming technology
Equipped with hydraulic pressing machines with manipulator, spinning machines, and other facilities, we manufacture the various head plates used at chemical and food plants.